CLOCKER GATE PICKING WINNERS BEFORE THEY ARE WINNERS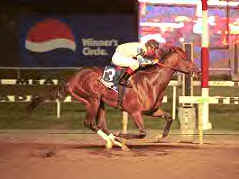 THOROUGHBRED LOVERS
Would you like to have an insider's edge in buying quality thoroughbreds! My professional database is for you.
My name is Gatha Artis, nicknamed Gate, and I have been involved in horse racing, The Sport of Kings, for over 30 years.
My personal data is for you, an advantage that any serious thoroughbred investor must have. If you are looking to become an owner for the excitement of winning races and building wealth in the racing industry this information will be of great value to you.
For my clients, I provide data over the internet of every two-year-old that previews at the auctions, not just the actual time displayed, but the fastest quarter, three eighths and half mile a two-year-old may gallop out and also a ranking of their workout. Ultimately, my system can sort out the top thoroughbred prospects in the sales that can potentially become wealth builders.
This data separates you from just being a bidder to becoming a successful well-informed bidder that you can not afford to be without. No other thoroughbred website at this time provides this type of data from the two year olds under tack show auctions.
At the New Jersey racetracks my job is titled Timing Analyst (clocker), which involves timing horses as they train for upcoming races. During my years of clocking, I have developed a fine eye for how a racehorse should move as an athlete and consider myself experienced in this field. I have been picking two-year-old winners for years and I have watched these young thoroughbreds mature into stakes winners and become top producers in the breeding industry.
I feel now is the time to raise my expertise to another level in helping potential racehorse investors buy young thoroughbreds. My job for my clients is to "Pick Winners Before They Are Winners." I have represented former NBA Player Bobby Hurley and Vinnie Puglisi each during the two-year-olds in training sales for the past three years. We purchased 15 two-year olds and most have won, (Vinemeister) was the winner of the Graded 3 Salvatore Mile at Monmouth Park in 2003. Since my first sales in 2001 I have represented Derby Dream Stables, Fantasy Lane Stables and recommended the purchase of Carey's Gold for the Thompson Stables. Carey's Gold won the Florida Stallion Stake in his next start. Michael Gill the leading money owner in 2003 asked me to represent him at the OBS and Fasig-Tipton February sales. We purchased over 40 two year olds, many have performed well and we had the fastest time for a two-year old (Forest Music) to run at Laurel race track at six furloughs in 108 and change with the best two-year old beyers of 105 (speed rating).
My goal is to continue to attract and offer my experience to any group of investors or individual investor interested in owning thoroughbreds to race. My offer is to be your purchasing agent at the sales or attend the sales with you. I would also clock the two year old horses in training during the sale preview, and help select a thoroughbred that looks athletic, shows soundness, quickness, and has good conformation (body structure). Or up to five buyers may purchase and have access to my privately clocked professional database per auction to help compare each two year old workout performance.

With the use of my database one day I will enjoy the excitement of watching my investor's win, possibly the Kentucky Derby or better yet the Triple Crown! I would love to explain my system if you have an interest in owning a racehorse and attending a two year old Thoroughbred Auction. To learn more please contact me at (215) 828-1892 or register at this site to view my database.

Sincerely,

Clocker-Gate